Lian Classic Double Tubing Sphygmomanometer with cuff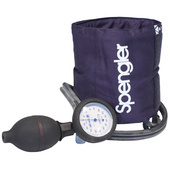 Description
Precise and easy to use, the reference blood pressure monitor from the Spengler brand!
Supplied in a case in a case, with 1 standard polycotton cuff with velcro closure.
Model with double tubing, chromium-plated, non-deformable metal housing with pressure-gauge protective cover in shock-absorbing foam.
Large volume pear for rapid inflation.
Perfectly linear pressure build-up and decompression thanks to the double tubing.
Different sizes of cuffs :
- L gray: 16.5 x 61 cm
- M gray or blue: 14 x 51 cm
> 5 YEAR WARRANTY
Any questions ? Contact us at contact@cardiodepot.eu
, Based on