3M Red Dot 2238 Holter Electrodes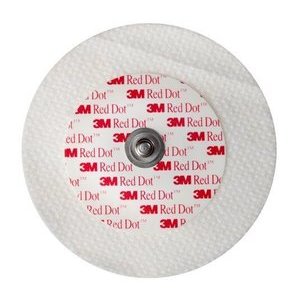 Description
Red Dot 2238 solid gel electrodes for adults are intended for long-term cardiac monitoring, intensive care, resuscitation and cardiology.
2238 electrodes are designed to minimize skin irritation, due to their low gel chloride content.
The multi-stretch support makes it easier to place the electrode on difficult parts and allows better breathability of the skin.
Application

holter

intensive care

Electrode type

snap

Material

multi-extensible support
and porous
foam

Repositionable

yes

Radiotransparency
(MRI compatible)

no

Latex-free

yes

Duration of use

up to 2 days

Gel

solid

Dimensions

diameter 60mm
Sales packaging :
- Bag of 50 electrodes
- Box of 1000 ECG electrodes (20 bags of 50 electrodes)
Any questions ? Contact us at contact@cardiodepot.eu
, Based on