Omron M4 Intelli IT Arm Blood Pressure Monitor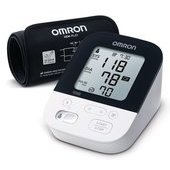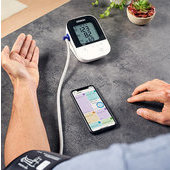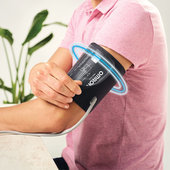 Description
Blood pressure monitor connected to the arm of the Omron brand, model M4 Intelli IT for hypertensive patients or pregnant women.
What are the special features of the Omron M4 intelli IT blood pressure monitor ?
- Memory capacity: 60 measurements, 2 users, possibility of adding a "guest" mode
- Suitable for patients with hypertension as well as pregnant women suffering from pre-eclampsia
- Transfer of results to smartphone via bluetooth using the Omron Connect application (and consultation of results with Alexa)
- Body movement detector to help with the installation of the cuff
- LCD screen
- Intelli-wrap Cuff 22-42 cm included
- Clinically validated specifically for pregnant women and pre-eclampsia
What are the technical characteristics of the Omron M4 intelli IT ?
- Systole, diastole and pulse display
- 3 measurements in 10 minutes on average
- SYS hypertension indicator ≥ 135 mmHg and / or DIA ≥ 85 mmHg
- Power supply: 4 AA batteries supplied or on mains (adapter not supplied)
- Package contents: a M4 Intelli IT blood pressure monitor, an Intelli Wrap cuff (22-42 cm), two instructions for use, an installation guide, 4 AA batteries, a storage case.
> 3 YEAR WARRANTY
Any questions ? Contact us at contact@cardiodepot.eu
, Based on