Fukuda Denshi CardiMax FX-8300 ECG Device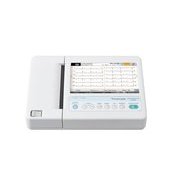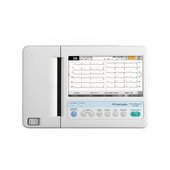 Description
What are the functions of the FX-8300 ?
- Paper size: 145mm
- Display of analysis results: large 8-inch screen
- Memory function: up to 1000 saved exams. Possibility to add an SD card
- Shortened functions
- Paper tray: bundles and rolls can be used.

What are the technical specifications of the FX-8300 ?
- Selection sensitivity: 1/4, 1/2, 1, 2, Auto
- Polarization voltage: ± 600 mV or better
- Response frequency: 0.05 Hz to 250 Hz
- Time constant: 3.2 sec. or better
- Common mode rejection rate: 103 dB or better
- Tracks: 12 standard tracks
- AC, Muscle, Anti-drift filters
- Thermal printer
- Printed channels: 3 channels, 6 channels
- 8 inch color LCD screen display 800x480px
- A / D conversion: 24-bit
- Sampling rate: 8,000 samples / sec
- AC power supply: AC 100-240V 50/60 Hz, DC power: 11.1 V DC (Battery)
- Consumption 100 W (AC)
- Device weight: 2.3 kg
- Compatible paper: OP-382TE (Z fold, 145mm)
- Battery life in continuous use: 120 minutes
Supplied with :
- Original LI-ON rechargeable battery
- 10 way banana style patient cable
- 3 metre power cable
- 145mm x 20m paper roll
Any questions ? Contact us at contact@cardiodepot.eu
, Based on