Spengler Cardiomate PC Digital ECG Device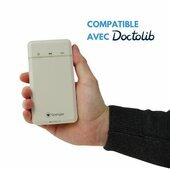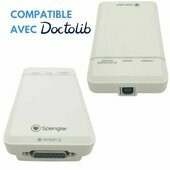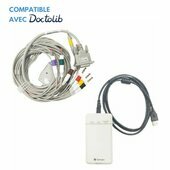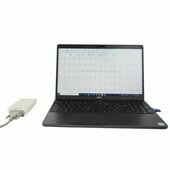 Description
MINI IN SIZE, MAXI IN POWER
The Spengler Cardiomate PC ECGs are the miniaturised versions of the Cardiomate 3, 6 and 12-channel ECGs. Their performance is identical and still XXL. With a record sampling speed of 32,000 Hz, high-performance software and simple, intuitive connectivity, they are suitable for all healthcare professionals looking for a high-end ECG.
Outstanding performance
The Spengler Cardiomate PC ECGs have all the technical features of a high-end ECG. They have a sampling speed of 32,000 HZ, which enables them to record the electrical activity of the heart with a very high level of accuracy. In addition, they are supplied with powerful software, including automatic interpretation, interval calculation and pacemaker detection.
Easily usable data
Whether it is connected to your PC, your smartphone and/or your tablet for the Bluetooth version, access the exams immediately and in different formats (XML, JPEG, PDF ...). Ideal for comparing ECGs or sending them by email!
Ideal in the office or on the go

With its small size, the Cardiomate ECG PC can easily be slipped into a bag pocket.
Easy to use
The software associated with the Cardiomate ECG PCs is easy to use. Very ergonomic and intuitive, you will be able to set up your examinations in a few clicks.
Technical specifications
- 12 standard leads
- Input circuit: built-in defibrillator protection
- Sampling rate: 32000Hz
- Response frequency: 0.01 Hz~350 Hz
- PC software Windows compatible
- Android application available for tablet and smartphone (only for bluetooth version)
- Functions : Real time display of 12 leads; 10s, 60s or continuous recording; Zoom, ruler and study comparison
- Database: Management of the patient database on the PC or smartphone and tablet for the bluetooth version
- Report format: PDF, JPEG, XML, FDA-XML, SCP, DICOM
- Power supply: USB for the USB version and 2 AAA batteries for the Bluetooth version
- Dimensions: 68 x 126 x 24 mm (L x W x H)
- Weight: 104g (USB version) 132g (Bluetooth version)


Delivered with
- 1 patient cable with 10 banana plugs
- 1 ECG PC software (Windows 7, 8 10 compatible) with USB dongle
- 4 limb clamps
- 6 precordial clamps
- 1 USB cable
- 1 user manual (EN, FR)
- 1 Bluetooth adapter (for the Bluetooth version)
Any questions ? Contact us at contact@cardiodepot.eu
, Based on