Asept Neo Jelly Us contact gel (5 litre can)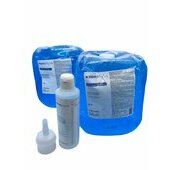 classified in : Conductive sprays for ECG and ultrasound gels
| Quantity | Incl. VAT | Excl. VAT |
| --- | --- | --- |
| 1 to 1 | 19,99 € | 16,66 € |
| 2 to 3 | 18,49 € | 15,41 € |
| 4 | 17,49 € | 14,58 € |
| Quantity | Price incl. VAT |
| --- | --- |
| 1 to 1 | 177,39 MAD or 16,66 € |
| 2 to 3 | 164,08 MAD or 15,41 € |
| 4 | 155,24 MAD or 14,58 € |
| Quantity | Price incl. VAT |
| --- | --- |
| 1 to 1 | 18,49 CHF or 16,66 € |
| 2 to 3 | 17,10 CHF or 15,41 € |
| 4 | 16,18 CHF or 14,58 € |
| Quantity | Price excl. VAT |
| --- | --- |
| 1 to 1 | £ 14,17 or 16,66 € |
| 2 to 3 | £ 13,11 or 15,41 € |
| 4 | £ 12,40 or 14,58 € |
Description
Asept Neo Jelly Us contact gel for ultrasound, ECG and Doppler.
This ultrasound gel is hypoallergenic, water-soluble, non-irritant, non-corrosive, and non-abrasive.
The transparent version is compatible with pulsed light.


Main components and materials :
Water, polymers, coloring agents, preservatives, humectants.

Sales packaging :
5L canister + 250ml empty bottle to fill.
Choice of Transparent or blue gel.
Any questions ? Contact us at contact@cardiodepot.eu
, Based on