AliveCor Kardia Mobile EKG Monitor - Instant EKG on Your Phone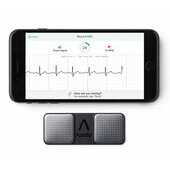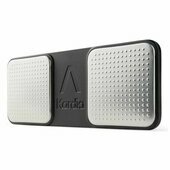 Description
The Kardia medical solution allows everyone to take care of their heart on a daily basis.
The Kardia Mobile solution (previously called "AliveCor Heart Monitor") can record, store and transfer single-channel electrocardiogram (ECG) data in just 30 seconds.
Display heart rate and detect normal sinus rhythms, as well as cases of atrial fibrillation (under the supervision of a doctor).
The Kardia Mobile device is intended for healthcare professionals, patients with (and potentially affected by) heart problems, as well as health-conscious individuals.
Download the Kardia app for free from the Apple Store or Google Play.
Clinically proven Kardia algorithms, CE marked and FDA (Food and Drug Administration) approved.
How to use the Kardia Mobile solution ?
Simply download the Kardia application on your mobile phone, create your profile and then place your two fingers on the electrodes to observe the trace of your electrocardiogram in real time.

The recording will be done within 30 seconds. You can then send it to your GP or cardiologist for analysis (sent by email in 1 click).
The Kardia Mobile device is supplied with :
- A multilingual quick start guide
- A self-adhesive protective shell for sticking the device to your mobile phone
Any questions ? Contact us at contact@cardiodepot.eu
, Based on