eKuore Pro Electronic Stethoscope (Basic Kit)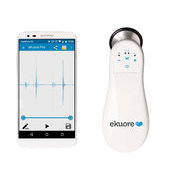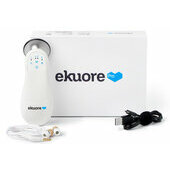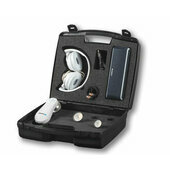 Description
- Cardio Depot is the exclusive distributor of eKuore -
The first intelligent connected stethoscope, ideal for tele-medicine

What are the features of the amplified eKuore Pro Stethoscope ?
- Allows an optimized and shared auscultation
- Perfect control of listening volume during auscultation (pulse button)
- Recording of auscultation in PDF format (possibility of attaching to the patient file)
- Visualization of the recording through the phonocardiogram
- Application of heart and lung filters from the smartphone
- Interchangeable auscultation pavilions
- Tele-medicine: remote sharing of the recording made for diagnostic assistance with other professionals

What does the basic kit contain ?
- An eKuore Pro stethoscope
- A 42 mm adult auscultation pavilion
- A pair of headphones
- A mini-USB connection cable
- A user manual
- A quick user guide

Where can I download the eKuore Pro app ?
Download the Ekuore Pro app for free from the Apple Store or Google Play.

Thanks to this mobile application, you will be able to record and edit the auscultation, listen to it jointly, share the auscultation, but also display the phonocardiogram.

The eKuore Pro stethoscope, ideal for tele-medicine ?
Various studies have shown that stethoscopes are a high source of transmission of bacteria and viruses.
Thanks to the device's wifi functionality, auscultation can be performed by the patient himself in an isolation cell.

The doctor can then listen to the hearing by plugging a headset into his smartphone and / or using the bluetooth adapter supplied with the amplified model and a Bluetooth headset.
In this way, the doctor is never in direct contact with the patient.
The range of the device is 10m with the bluetooth adapter and 20m with a mobile wifi connection.

> 2 YEARS WARRANTY
Any questions ? Contact us at contact@cardiodepot.eu
, Based on