AliveCor Kardia Mobile EKG Monitor - Instant EKG on Your Phone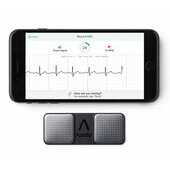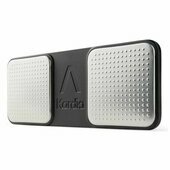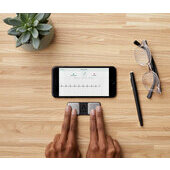 Description
THE SOLUTION THAT ALLOWS EVERYONE TO TAKE CARE OF THEIR HEART ON A DAILY BASIS
The Kardia Mobile solution can record, store and transfer single-channel electrocardiogram (ECG) data in just 30 seconds.
Display heart rate and detect normal sinus rhythms, as well as cases of atrial fibrillation (under the supervision of a doctor).
The Kardia Mobile device is intended for healthcare professionals, patients with (and potentially affected by) heart problems, as well as health-conscious individuals.
The device has been on the European market since 2014 and in addition to being validated by numerous cardiologists and physicians, its use has been approved by a large number of clinical studies.
How to use the Kardia Mobile solution ?
Simply download the Kardia application on your mobile phone, create your profile and then place your two fingers on the electrodes to observe the trace of your electrocardiogram in real time.

The recording will be done within 30 seconds. You can then send it to your GP or cardiologist for analysis (sent by email in 1 click).
Download the Kardia app for free from the Apple Store or Google Play.
Technical specifications
- Dimensions : 8.2 x 3.2 x 0.35 cm
- Weight : 18g
- Power supply : 3V CR2016 battery included for 200 hours of operation
- Single lead ECG
- Sampling rate : 300 samples/second
- 16-bit resolution
The Kardia Mobile device is supplied with :
- A multilingual quick start guide
- A self-adhesive protective shell for sticking the device to your mobile phone
Any questions ? Contact us at contact@cardiodepot.eu
, Based on